05 Mar

GoodFirms Acknowledges Nickelfox's App Development Excellence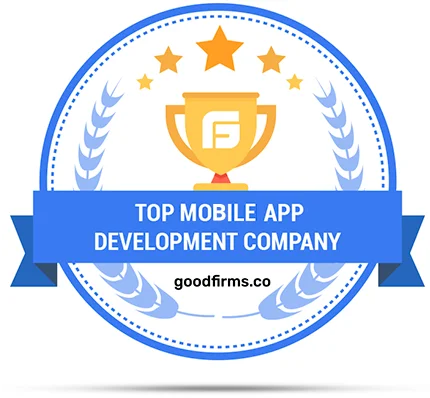 Standing out as a top-tier app development agency in the ever-evolving and competitive technology landscape is no small feat. Nickelfox, a dynamic player in the tech industry, has achieved this milestone. We have earned recognition from the prestigious B2B research platform, GoodFirms, as an elite app development agency.
We at Nickelfox are not your typical app development company. We are a powerhouse of creativity and innovation. Whether it's early-stage startups or well-established global brands, our consistent approach is to bring together an exceptional team of app designers, developers, and product analysts.
At Nickelfox, we share a deep commitment to crafting high-performance, scalable products that align with the industry's highest standards. Our agile approach, characterized by frequent testing and iterative app development process, ensures impeccable results every time, while our adherence to scalable coding practices underscores our commitment to excellence in app development.
GoodFirms Evaluation Criteria
GoodFirms, a notable research and review firm headquartered in Washington, D.C., operates with a model that involves a thorough analysis of service providers. Their rankings help businesses find the right partners that align with their specific needs. GoodFirms evaluates companies based on three core parameters: Reliability, Ability, and Quality. It's a rigorous process that ensures only the best make the cut.
Nickelfox's Performance Analysis by GoodFirms
"Nickelfox excels in crafting native apps across a wide range of industries, from Fintech and Healthtech to Edtech, Fashiontech, Foodtech, E-commerce, and Business & Utility applications. They've successfully executed projects incorporating cutting-edge tech like Blockchain, ML/AI, IoTs, and AR/VR."
GoodFirms' research team has rigorously assessed Nickelfox's mobile app development, foreseeing our prominence among the industry's top mobile app development companies.
Web Design & Development
"Nickelfox offers top-notch website services that strike the perfect balance between interface design, user experience, and app's features and functionality. Their expert web designers create affordable websites infused with creativity, all while maintaining consistency and reliability."
Nickelfox's dedication to pushing the boundaries of app and web development has not gone unnoticed. GoodFirms' impartial research indicates that we are well on our way to securing a spot among the leading web development companies.
Based in Washington, D.C., GoodFirms is a forward-looking B2B research and reviews company. They are known for their progressive approach to evaluating businesses, especially in app development and web design. GoodFirms has a reputation for acknowledging exceptional companies that provide top-notch client services.
GoodFirms conducts extensive research to rank companies, bolster their online reputation, and guide service seekers in selecting the ideal technology partner to meet their business needs. Nickelfox's inclusion in GoodFirms' esteemed list further solidifies our reputation as a leader in the tech industry, poised for even greater success in the future.